We've put together a one month summary report from our COVID-19 and Drug Markets survey to showcase the results so far. We hope that the report will help you to understand some of the changes to the drugs market as well as the issues facing people who take drugs and the services that support them.
We also highlight some recommendations that we think could help reduce drug-related harm in Scotland. You can download the report here.
Thank you to everyone who took part in the survey so far – we will be keeping it open throughout May and you can continue to take part here.
SURVEY NOW CLOSED
From the launch of the survey we gathered 327 responses across four weeks in April 2020. 142 of these were from Scotland, 54 from elsewhere in the UK, 102 from elsewhere in Europe and 27 from elsewhere in the world.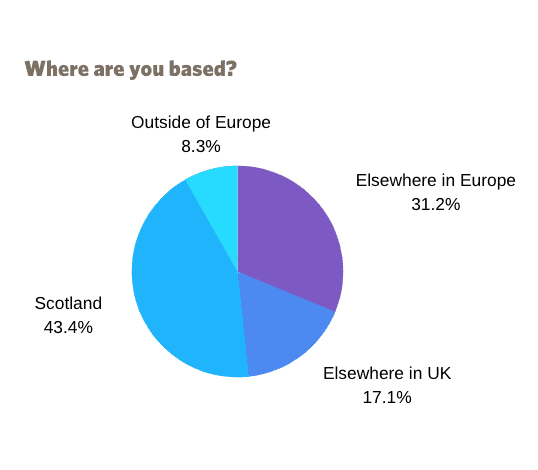 The survey was completed by people who take drugs, people working in services and other members of the public. The majority of respondents reported changes to the supply of drugs since COVID-19 spread to Europe demonstrating how quickly the market was impacted.
The biggest changes reported were to the availability, price and variety of products. Reports of poorer quality draw concerns of the increased use of adulterants, or novel drugs entering the supply chain which may increase drug-related harms. People may also be spending more money on a poorer quality.

The adaptability of the drug market is shown by dealers adapting their delivery methods, wearing gloves and changing the sizes of deals being offered.
Sales were also reported to have moved online with 30% of survey respondents now buying drugs via social media or online markets.
Purchasing behaviour was not the only thing to be impacted since the pandemic reached Europe. The way people are taking drugs also changed during these four weeks, with the majority of people reporting that there has been an increase in the quantity of drugs used and an increase in the frequency they were taken.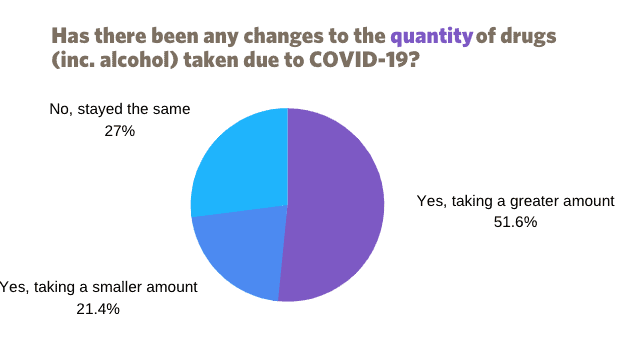 For many people the increase was due to boredom, more free time or increased stress. For those who were taking less this was most often due to shortages, lack of money to buy drugs or worries about both physical and mental health.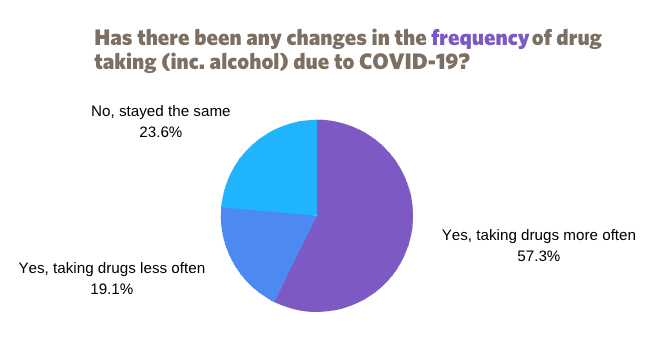 Changes to the types of drugs people were taking was largely driven by the change of environment – drugs like MDMA were not being taken as often due to clubs and nightlife spaces being closed while some people were increasing their alcohol or cannabis consumption while in the house. Other drivers behind changes in behaviour included not being around people who they would usually take drugs with or being around people who didn't know that they would normally take drugs.
So what does all this mean?
It is hard to draw conclusions from a small survey but the results offer some key insights into changes we can make in Scotland and other countries to improve services, reduce stigma for people who take drugs and reduce drug-related harms. This is of particular importance in Scotland where in 2018 we recorded the highest drug-related death rate in Europe.
In our report we draw on data to encourage investment in support for people who take drugs. We also recommend the provision of full-spectrum harm reduction including the development of public access to drug checking services, and to a diverse range of harm reduction equipment – including equipment designed for people who take stimulant drugs. One of the first steps towards this would be to widen the definition of problem drug use to include the use of cocaine and other stimulants.
Download the report to read more about what our respondents said and what can be done to reduce drug-related harm.
Other links